Photo: Christian Vierig/Getty Images
Copenhagen's style scene is increasingly difficult to ignore, and for good reason. Unlike the Fashion Weeks of Paris and New York, Danish fashion is defined by function — sneakers are supreme and, above all else, comfort is at every outfit's core. It often comes back to being something the average person can look at and say to themselves, "I like that, I think I'll buy it," a phrase I often found myself thinking while at Copenhagen Fashion Week. The kinship between style and functionality especially came through from emerging labels, including spirited knits from Paolina Russo and poofy lace dresses from Nicklas Skovgaard. Here are the dominating trends I saw in the streets and on the runways this past week. Feel free to take what you need or, better yet, wear them all once and report back.
We usually wouldn't suggest wearing flip-flops — a cardinal sin in New York City. But my observant friend and fellow fashion writer, Megan O'Sullivan, pointed out that everyone, both attending and modeling at the shows, was wearing flip-flops. Inconceivable. Perhaps Copenhagen's streets are more forgiving than our own. Nonetheless, there they were, at shows like Saks Potts, A. Roege Hove, and Helmstedt.
Photo: Edward Berthelot/Getty Images
If you can't stand the thought of exposed toes and subway-grate-drip juice, try sneakers instead. In New York, the Adidas Samba was once nearly inescapable (now, the downtown crowd has moved on to the Onitsuka Tiger). It seems as though there is a definitive "It" sneaker at any given moment here, but in Copenhagen, while sneakers were supreme, there didn't seem to be one reigning style. Shoes like Salomons, the Martine Rose Shox and Air Rifts from Nike, Asics, New Balance 550s, and more were coveted and paired with upscale outfits. For showgoers, it seemed the key to making any sneaker work was incredibly simple: It just needed to match your personal sense of style. Imagine that!
Photo: Christian Vierig/Getty Images
Okay, last foot-related trend and then we'll move on: Leg warmers are still very much in, but these runways introduced a more structured cousin to our favorite knitwear. Designers like Skovgaard, who showed a Victorian boot-inspired accessory, and Latimmier, who designed essentially crotchless, tailored pants in the form of leg warmers, said, "We see your Joots, Julia Fox, and we'll raise you one." If you don't like leg warmers, designers like Baum und Pferdgarten and Stine Goya sent models out with sheer, tight, and slouched mid-calf compression socks paired with kitten heels and ballet flats. You know what they say, health is wealth.
Photo: Alena Zakirova/WireImage
Silver is having a moment across the board, but this season in Copenhagen, we saw this concept both expand and simplify a bit to just "shimmer." Cool-girl brand Saks Potts showed bikini tops, tunics, and jackets that had some aspect of gleam to them. Ganni had garments like sequined dresses, bedazzled suits, and metallic-brushed denim.
Photo: Alena Zakirova/WireImage
Culottes! If you've seen Barb and Star Go to Vista Del Mar, prepare to be validated! Women in long shorts were everywhere in Copenhagen. While we're already seeing this happen in denim iterations in New York, Scandi girls were favoring materials like leather and cotton. Culottes saved Barb and Star's lives, and they just might save yours!
Photo: Edward Berthelot/Getty Images
Tiny floral accessories were inescapable this week. They were budding on necklaces, belts, earrings, and, most notably, hair clips. My first day in the city, I visited a vintage shop and picked up a hair clip with a giant rose essentially superglued on each side. I thought to myself, How cute, I'm so original! Reader, was I ever wrong. By the end of the week, these rosette hair clips were holding everyone's locks back. At the Ganni after-party, I counted at least four of us wearing them, including the fashion icon that is Paloma Elsesser. As soon as I landed at JFK, a woman came up to me and asked where I'd gotten mine, lamenting that each shop she'd visited in Copenhagen was either sold out or severely upcharging for them. This was the moment I learned some people had shelled out $54 for a hair clip.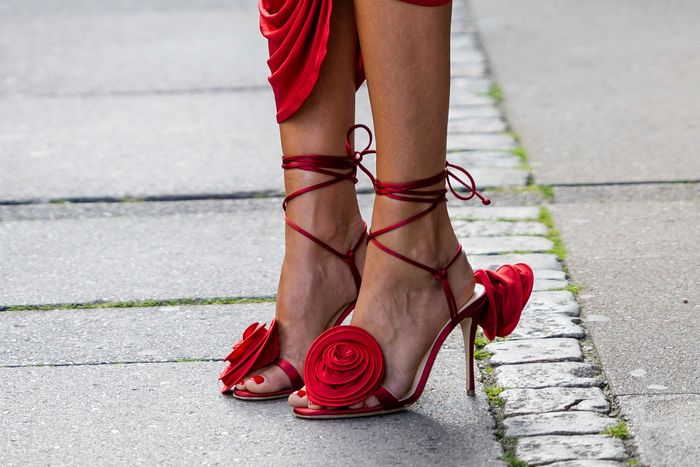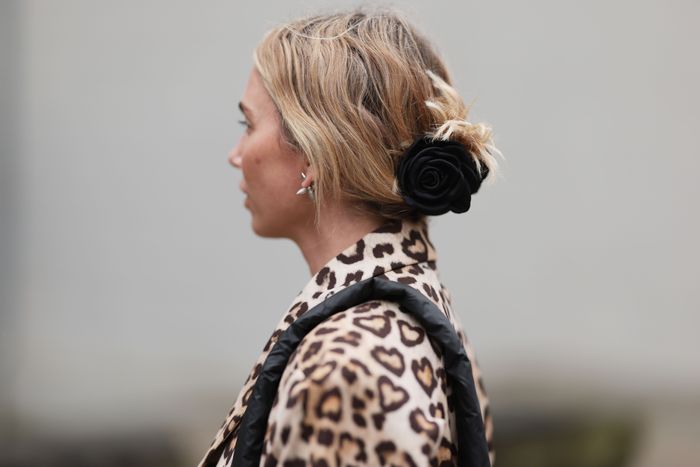 People's tresses were tied back with items that rarely resembled the claw clips we once wore as badges of honor. Butterflies, shells, and — my favorite and surprisingly expensive — starfish dotted everyone's heads. The whimsy was palpable.
Photo: Edward Berthelot/Getty Images
Fred and Daphne were absolutely onto something. Tiny neck kerchiefs are back. Mark Kenly Domino Tan sent models down the runway with dainty scarves wrapped around their necks, and you will absolutely catch me doing the same this fall.
Photo: Alena Zakirova/WireImage