We can't quite believe it's that time of year again, either. Around the world, streets are being lit by the warm glow of festive light displays and thumming cheer (or consumerist angst, depending on who you ask) of shoppers treading the pavements in search of gifts, mulled wine and something — anything?! — to wear to the slew of Christmas parties. Holiday season is upon us, folks! So, what better way to celebrate than becoming acquainted with the hottest drops and shops in fashion — and the luxuries you'll hope to find under the Christmas tree. This week, we bring you news of Bottega Veneta's new designer, festive launches from the likes of Alexander McQueen and Gucci, an audience with Schiaparelli's Daniel Roseberry, and a Q&A with the iconic Renata Klein Laura Dern, who stars in Proenza Schouler's new collection for Mercedes-Benz. See, it's not even Thanksgiving and we're already offering gifts galore. Don't say we don't spoil you. Here's what's in fashion. 
All hail the new 'New Bottega' designer 
Well, that was quick!! Last week, we brought you the news that Daniel Lee would be stepping down from Bottega Veneta. This week, we're here to tell you about his replacement. It's none other than Matthieu Blazy, previously Bottega's ready-to-wear Design Director. What does that mean? Well, firstly, this is a typical Kering move — to promote a second-hand to the top spot. It's worked out well for the conglomerate before – just look at Alessandro Michele, who worked behind-the-scenes at Gucci for more than a decade before rising to the top spot, Sarah Burton at Alexander McQueen,  or even Daniel Lee, who was the right-hand to Phoebe Philo before he joined the Italian house three years ago. The benefit of giving the job to a little-known designer is that it creates genuine intrigue and excitement — who knows whether Matthieu will stay on course with Daniel's vision or introduce a whole new lexicon of leathery, luxury goods! 
So, who is he? The Parisian-born 37-year-old was a graduate of the renowned arts school La Cambre in Brussels before starting his fashion career at Raf Simons. Since, he's gone on to work in the design teams at Céline under Phoebe (where he met Daniel Lee) and Calvin Klein, as well as Maison Martin Margiela, before he joined Bottega Veneta last year. At Margiela, he was famously 'outed' by Suzy Menkes as the designer behind the famously anonymous brand. There, he upcycled couture, turning the likes of archival Poiret garments  Fortuny pleats into panelled T-shirts, and making skirts from scarves found in 1930s brothels. It earned him the attention of Phoebe Philo, and set him on his path to Bottega Veneta. Matthieu also happens to be the partner of Pieter Mulier, who earlier this year made his stunning debut as creative director of Alaïa. You could say they're fashion's new power couple. And even better, they're both lovely people who couldn't be further from fashion clichés. Matthieu's first collection will be shown in February next year — and we can't wait for New-New Bottega. OA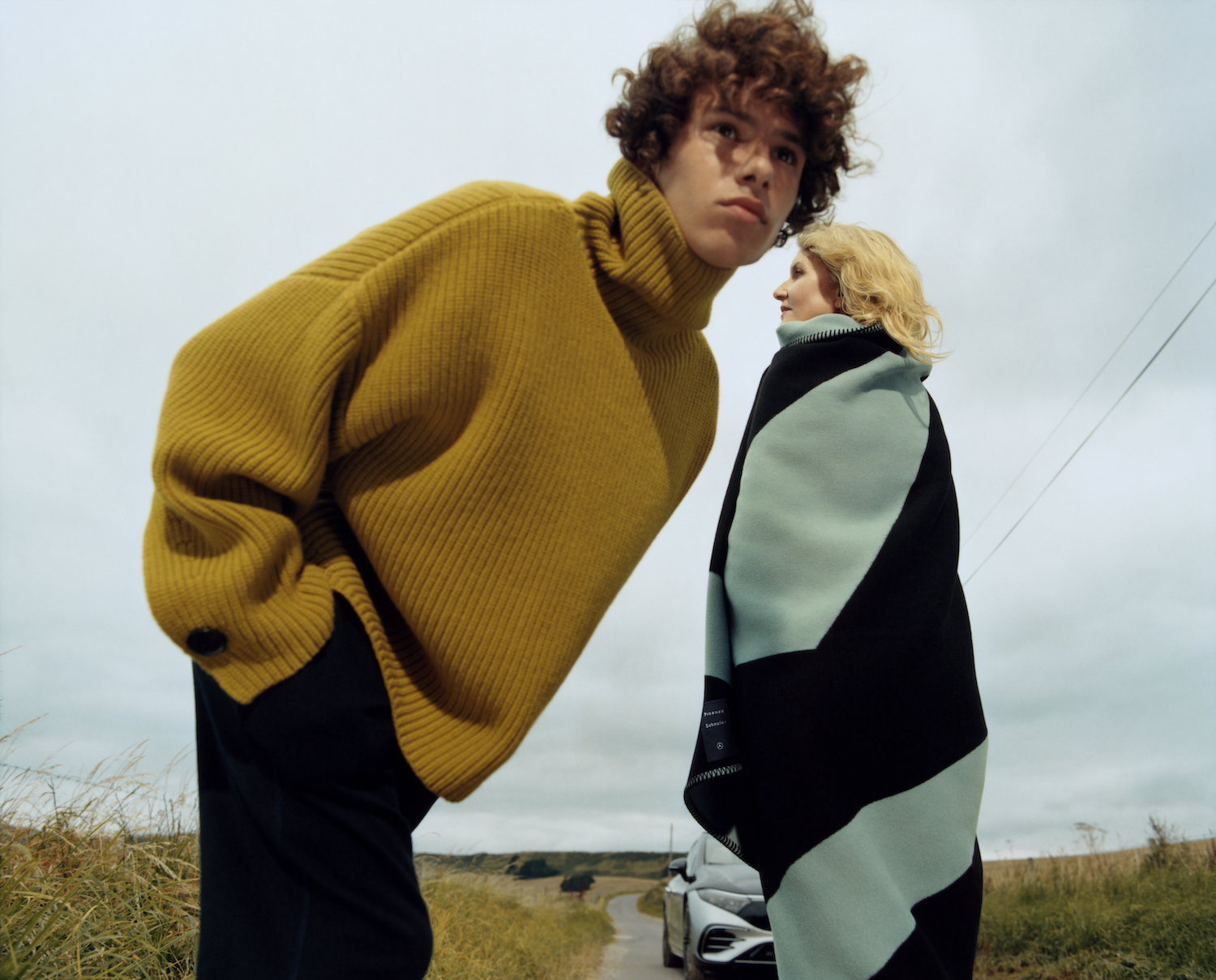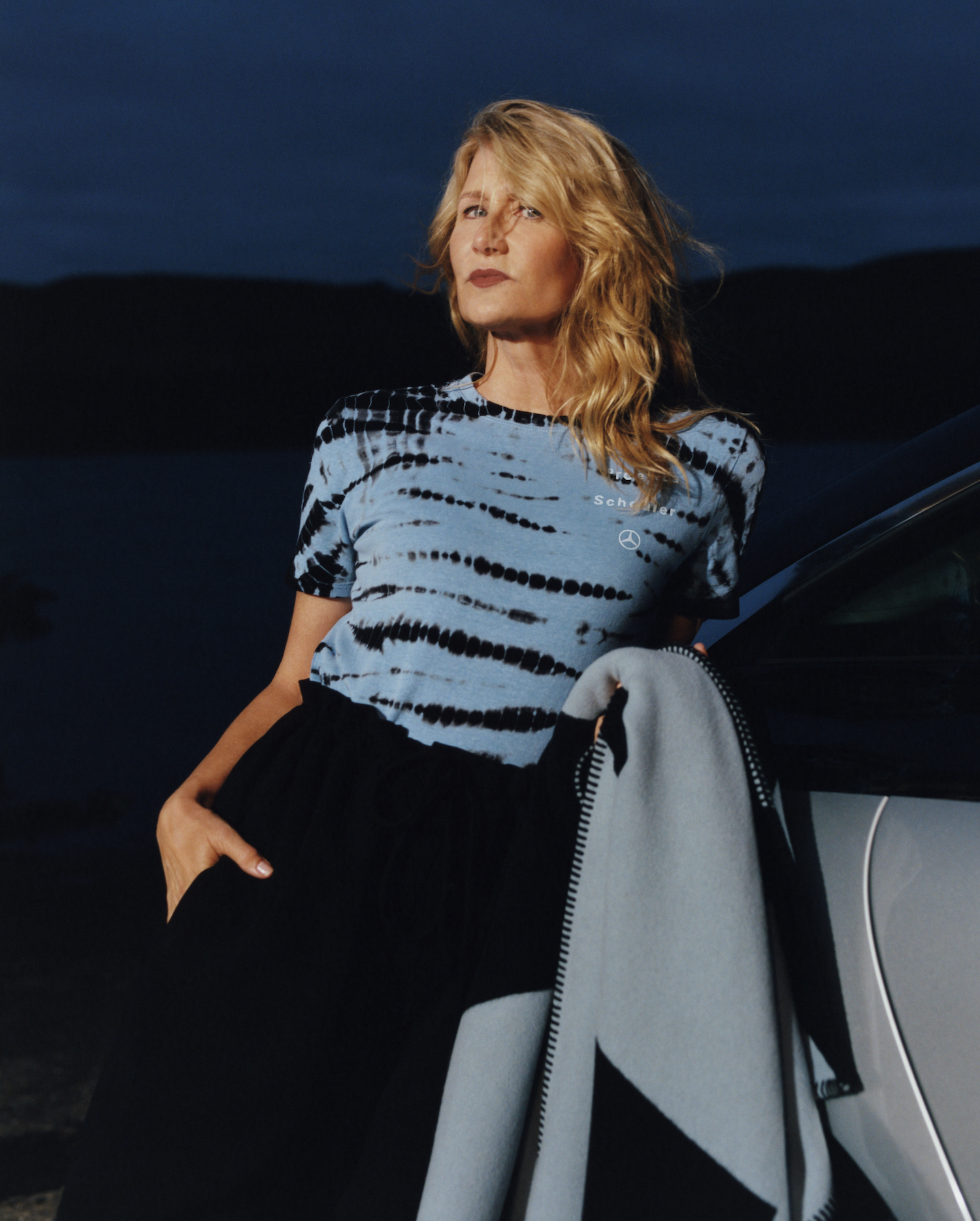 We caught up with Laura Dern to talk fashion
She's an icon who needs no introduction. From her iconic performance (and wardrobe) as Renata Klein on Big Little Lies, to starring in David Lynch's 1986 film Blue Velvet, to her turn as Dr. Ellie Sattler in Jurassic Park, there is not a script or a movie that Laura Dern can't bring sparkle to. It's impossible not to love her — especially in the fashionsphere. Raf Simons put her on a T-shirt, Miuccia Prada adores her, and now, at the height of her career, the Oscar-winning star is the face of Proenza Schouler's new collaboration with Mercedes-Benz. Drawn to the designers' commitment to sustainability (the collection comprises recycled cashmere knits, eco-cotton tees with eco-friendly tie-dyes, upcycled leather keychains and recycled-wool totes) — the environmentally-conscious actress stars in the campaign with her model son Ellery Harper. Photographed by Harley Weir, they take a quintessentially Californian a road trip in an all-electric Mercedes-Benz EQS (Laura is a native Los Angeleno, so she spends a lot of time in her car). We caught up with her to discuss her love for fashion, her tips for dressing up, and most importantly, her life in looks. 
Hi Laura! Tell us what drew you to working with Proenza Schouler? Hi! Well, I am lucky to now call Jack and Lorenzo friends because I'm such a fan of theirs. I've loved Proenza for a long time and my character Renata on Big Little Lies where a lot of Proenza actually — and so connected on that and they invited me to the Met Ball several years ago, and we had this beautiful night together. But I learned about who they are as people, but also about their mission statements in terms of sustainability, and I could see a real palpable awareness. When it comes to climate change, and the world of fashion, there are only a few very high-level brands that are making this their primary focus, like them and Stella [McCartney]. So I was really grateful that they also thought of me and my environmental work, and it made sense with everything Mercedes-Benz is doing with their electric fleet, too. I can't stop singing their praises! 
What do you like about their fashion? They love to honour a woman, not try to transform a woman — so any woman feels they can wear their clothes and feel their best. There's no shaming in their aesthetic, which I appreciate! 
Do you have any favourite pieces from the collection? I'm obsessed with these recycled eco-cotton tie-dye T-shirts, which I feel like I wear every day. You know, most of the time, I'm wearing literally three pieces of theirs. And they're recycled cashmere sweaters! We have one from the new collection in this citrine colour, but we only have one so my son and I have been full-on fighting over it. I want to make it sound adorable, but there have been full-on fights. 
What pieces of clothing have you kept from the costume departments of your movies? Well, I wish I'd known to do it more. You know, no one told us when we were kids that you should save a shirt or a costume or a prop, you know, and it's such a gift to have those things. I have from the film Rambling Rose, and I have  Nicholas Cage's snakeskin jacket from Wild at Heart.
Do you ever wear them in everyday life? No, you know, the great thing about the Big Little Lies costumes is that Renata's taste is amazing and I've been lucky to snag a couple of coats from her that have become part of my uniform. I wish I'd kept my costumes from Blue Velvet, but when you're in it, you're just making a movie, and then 20 years later, it's a profound piece of art! You're like, I wish I just had a few pieces — and that applies to filmmakers, too. Either they end up in a costume storage house, or they just get lost, or the directors are desperately looking on eBay for pieces to buy them back. Steven Spielberg and I were discussing finding pieces from Jurassic Park — but it's a journey! I will hold on to my Proenza…
Whose style do you love? As a little girl, Katharine Hepburn had a big influence on me because I saw, you know, a powerful female movie star at a time where even 20 years later, when my mom was auditioning for movies in the 60s, she said that you couldn't go to an audition without a stocking without a seam on — and you had to have a dress on! I look back and see Katherine Hepburn's incredibly gender-fluid,  transformative style, you know, it's so badass. 
By now you're a seasoned pro at the red carpet. What are your tips for getting dressed up for black-tie events?  I think re-wearing pieces is an important statement. A lot of us were doing it at the Oscars two years ago. I asked Mr. Armani if he could re-do the dress he made me in 1992 at the Cannes Film Festival for Wild at Heart, which I kept! I like the idea of archiving pieces to wear them again, and even changing them or reworking them with different fabrics. Jack and Lazaro do that — they look at how we can rework former fabrics. Thank goodness, it's an exciting time for the inventors, for the people who are really looking at how to do it differently.
Daniel Roseberry on Schiaparelli's most viral looks (yet)
Who says haute couture is dead? The fine art of French dressmaking may be for the few, but at Schiaparelli — the fashion house founded just under a century ago — couture has never gone more viral. Thanks to Daniel Roseberry, the Texan creative director who was brought in to revamp the house two years ago, Paris' petite mains have never been busier rustling up looks for the likes of Lady Gaga, Kim Kardashian, Beyoncé and Cardi B. From the former's bullet-proof inauguration gown (yes, really) to the latter's nipple-baring gold breastplates, we caught up with Daniel, in town to celebrate a new Schiaparelli installation at Dover Street Market, to discuss his most viral looks yet. Watch it here. OA
You need to see Boy.Brother.Friend and Burberry's new exhibition
If you're looking for something cultural to do in London this weekend, let it be something fashionable, too. Boy.Brother.Friend — the zine exploring the diaspora and male identity through fashion, art and theory — and their oft-collaborators Burberry and Riccardo Tisci have just opened a pop-up exhibition in the capital for the next three days only. With elements of sculpture, print, film, sound and performance from 45 international artists, and with talks occurring throughout the weekend, the exhibition, titled 'Before Anyone Else', explores the concepts of migration and movement ahead of the release of their third print issue next week. Showcasing at 5 Vigo Street, just around the corner from Piccadilly Circus, the commercialised retail scape has been a part of London's luxury good history since the seventeenth century whilst also a space with a colonial history rooted in the formation of the British Empire, Kk Obi, founder and creative director of Boy.Brother.Friend tells us. "As such, showing work in this area by Black diasporic voices — artists, designers, photographers, curators and many descendants of the former Empire or [those] affected by its legacies — in a Black-led initiative, beyond exhibition-making, feels urgent," he says. Book a slot for the exhibition here. TG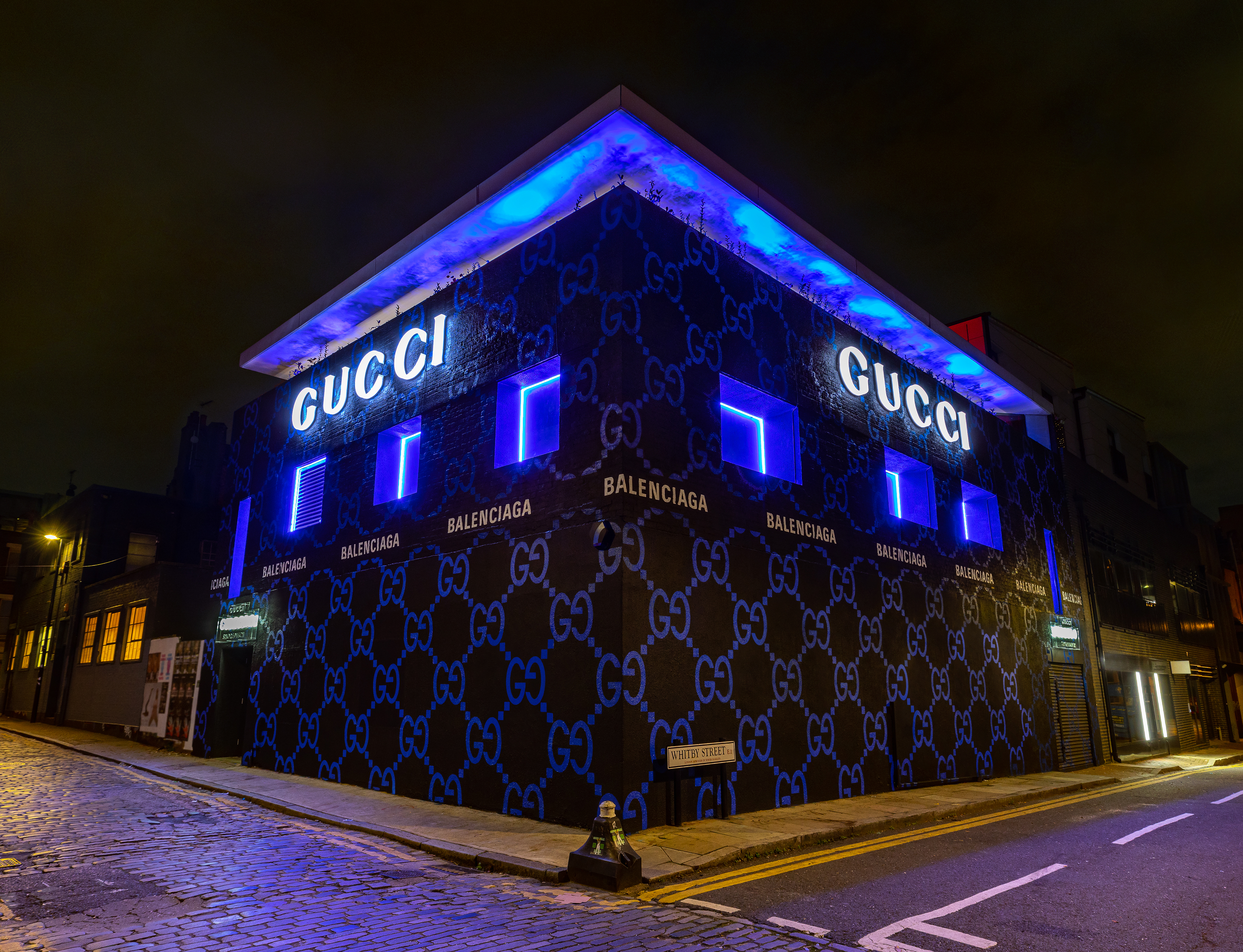 Image courtesy of Gucci.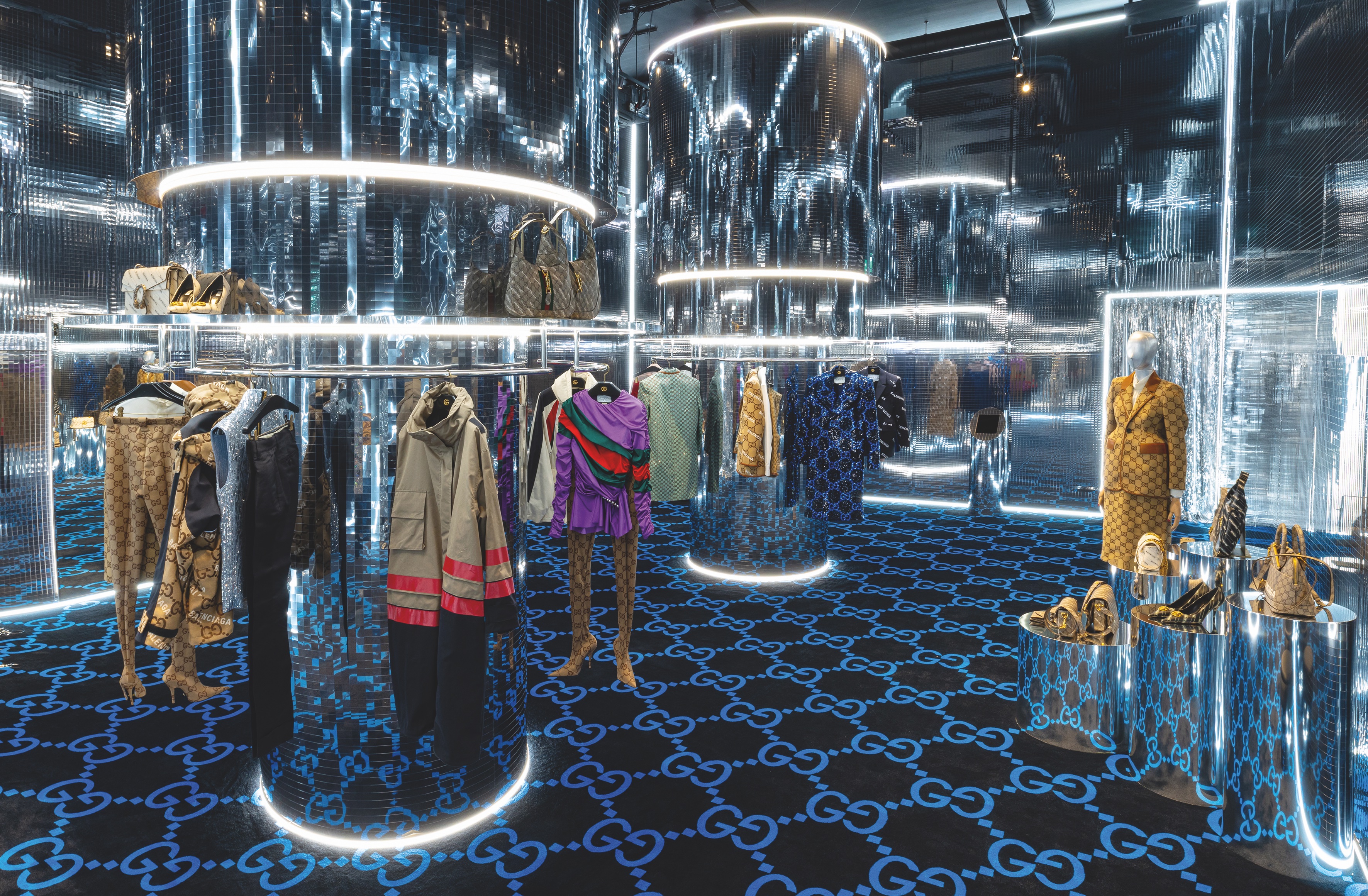 Image courtesy of Gucci.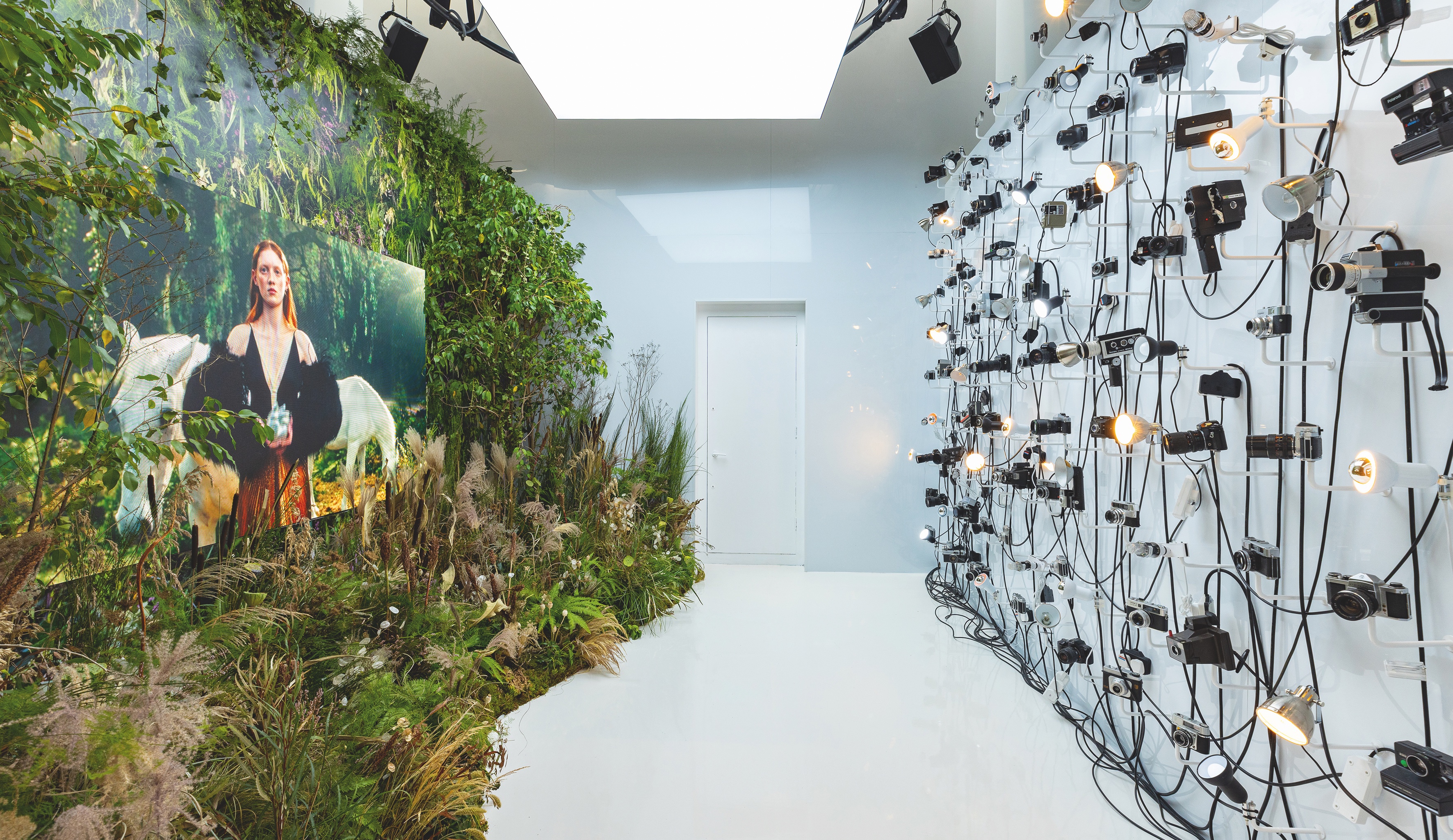 Image courtesy of Gucci
Gucci Circolo Shoreditch has been hacked by Balenciaga!
It was only a matter of time. Gucci's 'Circolo' store in Shoreditch, only a month in, has been hacked. As if you need to be told, it's been hacked by none other than Balenciaga for the launch of Alessandro Michele and Demna Gvasalia's unprecedented collaboration. The exterior of the Sir David Adjaye-designed multisensory universe is wrapped in a dark GG monogram print with a ribbon of the Balenciaga logo around it, while the inside ground floor is a spacey mirrored haven with Gucci classics along with iconic items remixed with Balenciaga styling. From the Jackie bag emblazoned with a Balenciaga logo, to the latter's Triple S Sneakers reimagined with Gucci botanicals — it's all here. You can then get the supermodel experience as cameras and light bulbs flash in front of a wall of flora and fauna, as seen on Alessandro Michelle's Aria runway last spring. Shoppers, be quick. The collection has almost all but sold out. In fact, you have until 5 December 2021 to check out the futuristic space before it enters its third and final phase. We can't wait, either. TG
Fashion's brightest stars launch a BIPOC fashion mentorship programme
Last year, amid the racial reckoning of Black Lives Matter, creatives Alex Sossah and Grace Ladoja raised £140,000 with the ambition to elevate Black talent and address inequality in the creative industries, as well as inspiring others to rise. The result was the Metallic Fund, a mentorship platform that has so far supported the likes of No Signal Radio, Vivendii and Feben. Now, a year on, Alex and Grace have enlisted some of fashion's brightest stars — including Martine Rose, Yoon Ahn, Mowalola, Tremaine Emory and i-D's own Carlos Nazario — to create the Fashion Design Programme, in partnership with Foot Locker. An intensive and immersive educational programme aimed at young creatives in the worlds of fashion, streetwear and sportswear — the free eight-week design course comes with the aim of accelerating the careers of some of the UK's most promising young BIPOC creatives, aged between 18 and 30. Housed within the new London-based Metallic Fund Space in London, participants on the programme will have access to resources including a design studio, sampling workshop, content studio, video conference booths and a research library. The course will involve various modules, covering everything from art direction and graphic design, to supply chain management, and garment construction, and all information and application forms can be found here. Well, what are you waiting for? Apply now, or simply spread the word. OA
Alexander McQueen goes gothic for the holiday season
We're in that time of the year where sp00ky season is sadly over but we're not quite ready to get Xmas festive yet. Dropping in this period where the only correct holiday movie to watch is "The Nightmare before Christmas", comes the perfectly-timed new Alexander McQueen campaign film, which gives us those wintery feels alongside the creepily dark content we're not quite ready to let go of yet. Created by animator and Sarabande Foundation artist-in-residence Isabel Garrett, the film opens with a rhinestoned blood-red mini Curve bag that cocoons a fabric moth. A scarab beetle struggles to carry the jewel-embellished earrings hanging from its antennae while a giant spider spins a gold chain web that ensnares letter and heart-shaped pendants. Finally, we're taken into one of the brand's signature skulls, this one in icy blue shredded bandages, that houses a snake posessively wrapped around a calf leather skull bag dripping in gold crystals and a zip coin purse adorned with the metallic Alexander McQueen seal. Watch the shiver-inducing campaign film above and shop all the glitzy cold-season party accessories in-store and online. TG
Name a more iconic duo: Mickey Mouse and Globe-Trotter
Considering the festive season is almost in full swing, it's time to bring a bit of cheer — and a lot of kitsch — back into our lives. Bringing a little magic to baggage claim carousels everywhere is Globe-Trotter, the traditional British luggage-maker, which has partnered with Disney (yes, as in the Disney) on a wide-ranging collection of luggage in celebration of the near 100-year history of Mickey Mouse. Playing on the era in which Mickey Mouse first graced screens in 1928, the classic trunks design features sleek black straps across the cases and protective leather corners, along with stickers of all the characters in the Mickey Mouse family in typically vintage style. Inside the cases are lined with printed archive drawings from the OG cartoons, while all items have one leather corner in the signature red with gold rivets that emulates Mickey's favourite pair of scarlet panties. With the campaign tagline "this bag contains magic", you can cop your new fairytale purchase at the Globe-Trotter flagship store on Burlington Arcade, 51 Piccadilly, or online at globe-trotter.com. Name a more iconic duo. We'll wait. TG