Princess Diana is remembered as one of the most stylish women of the twentieth century with her fashion forward wardrobe choices still inspiring designers 25 years after her tragic death.
Over the course of her time as a member of the royal family Diana became associated with some staple accessories including her famous Lady Dior handbags and Jimmy Choo strappy sandals. None of these were as frequently worn by the princess as her beloved collection of pearl jewelry—many pieces of which are now worn by her daughter-in-law, Kate Middleton.
Now in 2022, Diana's favorite jewel is set to be making a major fashion comeback, with Harper's Bazaar heralding the "return of the power pearl" and the International Gem Society citing A2Z Market Research showing that the pearl jewelry market is set to grow at a compound annual growth rate of 13% between 2022 and 2031.
From her very introduction to the royal fold Diana wore pearls. On her wedding day, for her going away outfit, the new Princess of Wales borrowed the pearl necklace worn to the ceremony by her sister. This choker style family heirloom would set the tone for the rest of her royal life.
Here, Newsweek takes a look at some of Princess Diana's favorite pearl accessories from dazzling tiaras to a touching suite of jewels that was only worn once publicly before her tragic death:
Collingwood Earrings
Princess Diana was given this set of earrings by the jewelry firm Collingwood who were the family jewelers to the Spencers. The firm made the gift as a wedding present though reportedly wanted to present a much larger set of jewels which were deemed too extravagant.
The princess wore the Collingwood earrings for the rest of her life and they formed part of many of her most famous looks including her 1994 appearance at the serpentine gallery wearing what has come to be remembered as the "revenge dress."
The earrings are now worn by Diana's daughter-in-law Kate who has a particular fondness for them, using them often to accessorise outfits.
Pearl Choker Necklace
This pearl choker style necklace with large oval sapphire and diamond element was made by Diana from a wedding present given to her by Prince Charles's grandmother, Queen Elizabeth The Queen Mother.
The gift was the central element which was originally a brooch and was worn by the princess in the earliest years of her marriage. Apparently not fond of brooches, Diana had the piece transformed and wore it while dancing with John Travolta at the White House in 1985.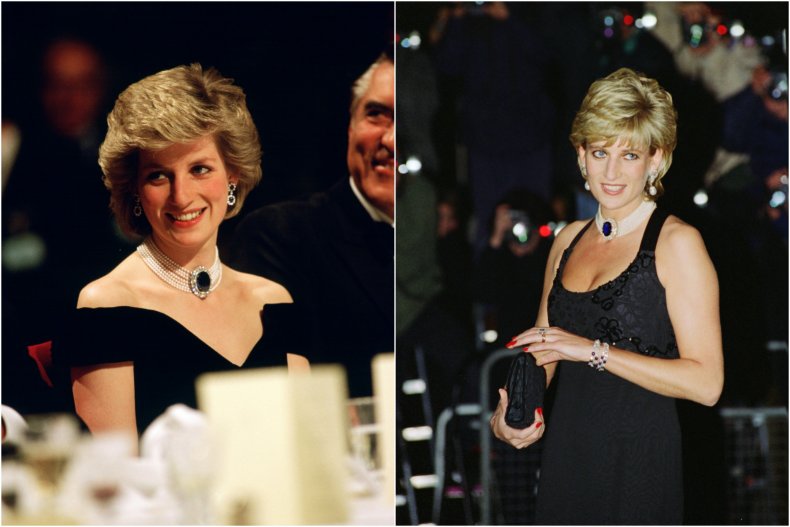 Queen Mary's Lover's Knot Tiara
The large diamond and pearl tiara loaned to Diana as a wedding present by the queen was perhaps her most important jewel.
The tiara—an ancient symbol of royalty and nobility—was made for the queen's grandmother Queen Mary in 1913 who wore it in conjunction with her large jewelry collection. In 1953 the queen inherited her grandmother's collection and wore the lover's knot tiara during the early years of her reign.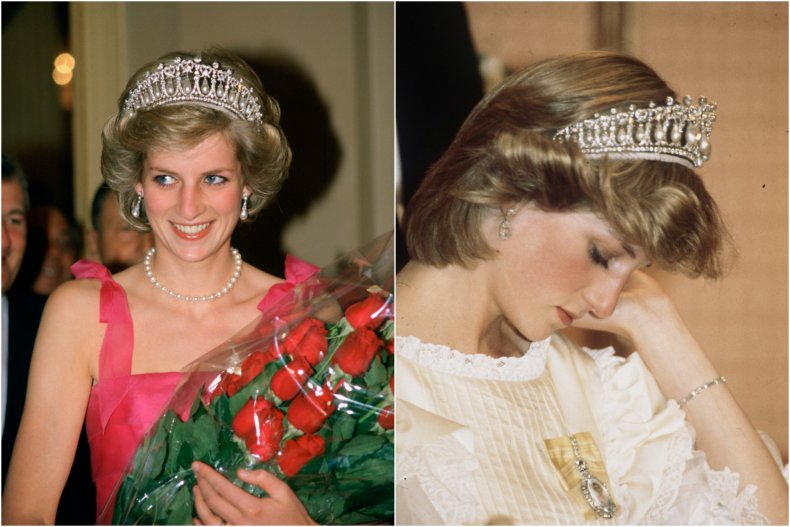 In 1981, the piece was passed to Diana to whom it is now inextricably linked. After Diana's divorce, the tiara was put back into the queen's cavernous jewelry vault and not seen until 2015 where Kate Middleton wore it for the first time.
Since then the tiara has been Kate's go-to statement jewel loaned to her by the queen for state banquets and diplomatic receptions.
Diamond Cluster Pearl Drop Earrings
Diana publicly debuted a statement pair of diamond and pearl earrings at the coronation banquet of Emperor Akihito and Empress Michiko of Japan in 1990. The earrings feature a diamond cluster top element in a twisted design with the capacity to suspend two large pearls from beneath.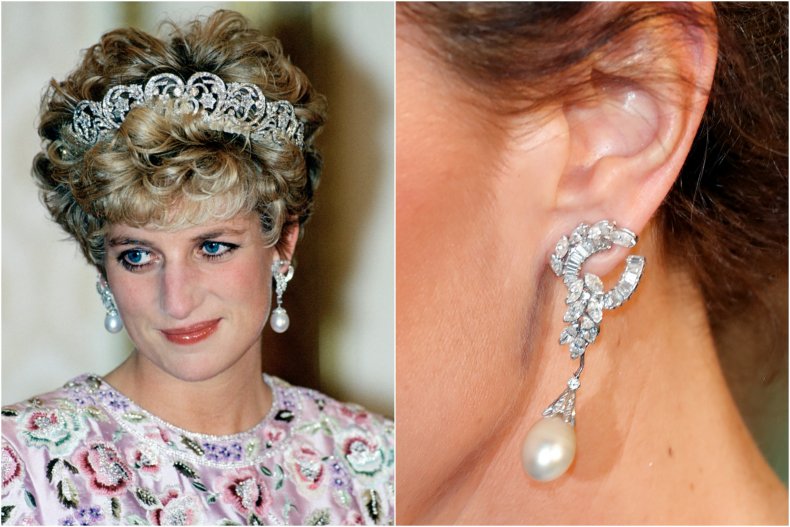 Diana had two large South Sea pearls suspended from the top elements and for the next seven years paired them with some of her most bold and daring fashion choices, including an electric blue asymmetric Versace evening gown on a visit to Sydney in 1996.
After Diana's death the earrings were once again not seen until they appeared worn by the Duchess of Cambridge to the BAFTA Awards ceremony in 2019.
Swan Lake Suite
After her divorce Diana went through a style transformation, discarding the usual sartorial expectations placed on a member of the royal family and being more free in her style choices. One of the aspects of her personal style the princess did not want to be without, however, were her pearls.
After returning her diamond and pearl tiara to the queen after her divorce, Diana set about acquiring another statement pearl and diamond jewel in the form of a necklace.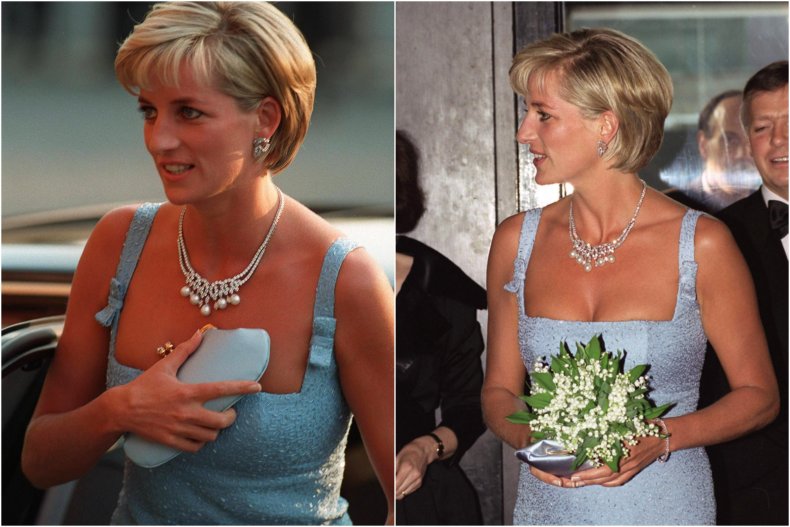 Diana commissioned a grand necklace of diamonds and pearls from the crown jewelers Garrard's who had made her engagement ring.
The necklace, which was to be accompanied by a pair of earrings, was ready in the summer of 1997. The princess wore the necklace to a performance of Swan Lake at the Royal Albert Hall on June 3, 1997, just weeks before her fatal car accident in August.
At the time of her death, Diana had reportedly not yet bought the necklace and so it was returned to Garrard's and sold privately where it has been offered for auction three times since.
The necklace last hit the auction rostrum in 2017 with the asking price of $12 million.
Fun Fashion Accessories
Diana was known for her fun personality and unconventional streak which extended to her style at various points throughout her life.
Breaking away from the fine jewelry-loving queen or Princess Margaret, Diana incorporated many pieces of costume jewelry into her everyday rotation including ropes of seed and faux pearls.
Though it is impossible to determine which of the princess's pieces were authentic, she experimented with her pearls, layering large necklaces in a way that previous royals such as Queen Alexandra and Queen Mary used to in the early 1900s.
The princess also used ropes of pearls to soften outfits or create contrasts. On a visit to Germany in 1987, Diana wore a striking black lace evening gown by the designer Victor Edelstein which she accessorized with a long pearl necklace wound around her throat and hanging down the lace front.
To the 1985 premiere of Back to the Future, Diana bucked convention by wearing her pearls draped down from her throat hanging over her exposed back in a dress by Catherine Walker.