Every September, fashion lovers from all over the world descend on New York City to take in all the fashions from the runways to the streets. The city is transformed into a fashion mecca, with shows, parties, and events taking place all over town. Fashionistas can see the latest trends from top designers, and street-style photographers capture the best looks from the city's most stylish residents and transplants. It's a week of non-stop fashion, and it's a must-see for any fashion lover.
---
This fashion week definitely hit different for me. It felt heavier and not as fun as it used to be. One day, once I've processed everything with my therapist, I'll be able to talk about the psychological Olympics that overwhelm me, from what to wear to not being accepted by certain groups — it's just so much. And we don't talk about what it does to your mental. I'm definitely living in the BOTH/AND space — it felt grueling, and I felt blessed. So let's run back my week so you can see what it's like to be a fashion writer during New York Fashion Week.
Day 1
Harlem Fashion Row celebrated its 16th year by hosting the Style Awards at the Apollo Theater. Kelly Rowland, Wayman and Micah, Gabriela Karefa-Johnson, Stella Jean, Johnny Nunez, and A$AP Rocky were among the honorees. Megan Renee, Nicole Benefiled Portfolio, and A. Potts showed off some head-turning designs. The show concluded with a tribute to hip-hop by Doug E. Fresh.
Fit Check — I opted for an all-black look comprised of a bralette, voluminous tulle skirt, combat boots, and bedazzled NY fitted cap. I wanted to give rose in Harlem.
Day 2
When I received the Hanifa presentation invitation, my life was made. For me, Hanifa has always been a showstopper with its inclusive designs and larger-than-life collections. Not to mention, the designer, Anifa, is proof of what resilience looks like. From being the first designer to put on a virtual fashion show during the pandemic to creating another collection after just giving birth. The event brought out some of our favorite fashion girlies like Serayah, Maiya the Don, and Aaliyah Jay. The playlist was lit, the drinks were hitting, and the looks were looking.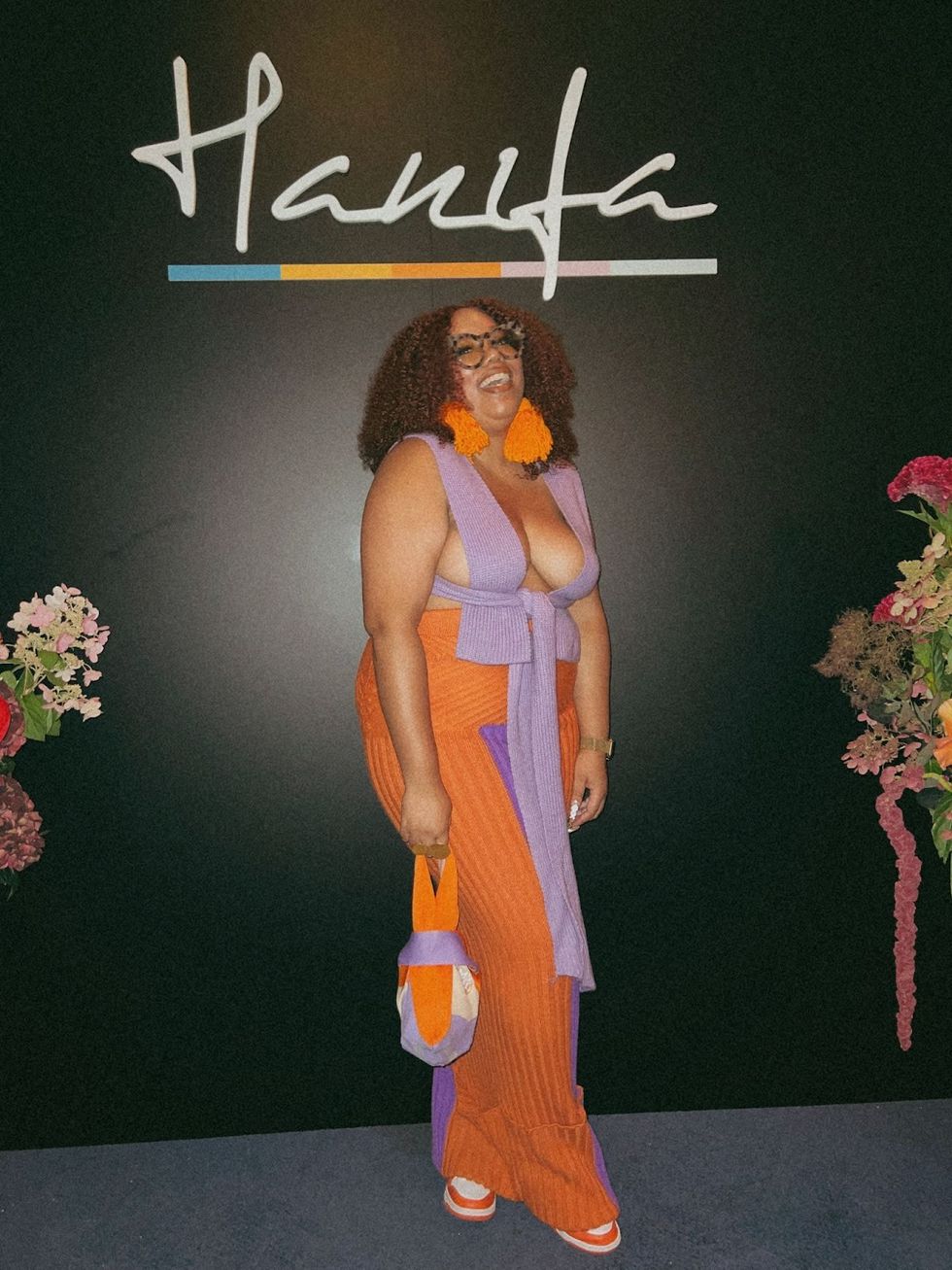 Photo courtesy of Joce Blake
Fit Check: Since I love a Hanifa piece, I just had to remix one of my favorite skirts of all time. I coupled a daring knitted top with a Hanifa maxi skirt and accessorized with a matching knit bag. To stay comfy, I kicked back in orange Nike Dunks.
Day 3
On the third day, I pulled up to the Miss Circle NYFW Kickoff Party. Miss Circle CEO Isabel Deng expressed her excitement about hosting the event again to kick off New York Fashion Week in a press release. She said that Miss Circle is deeply intertwined with the New York fashion scene because their flagship store is located in the heart of Soho. She added that the evening is their way of celebrating this New York moment with their devoted fans and the local community. And while this isn't a Black-owned brand, the melanin was all over. Riley Burruss, Ciara Miller, Sofi The Oddity, and Tarah Lynn were just some of the fashion lovers who arrived in style.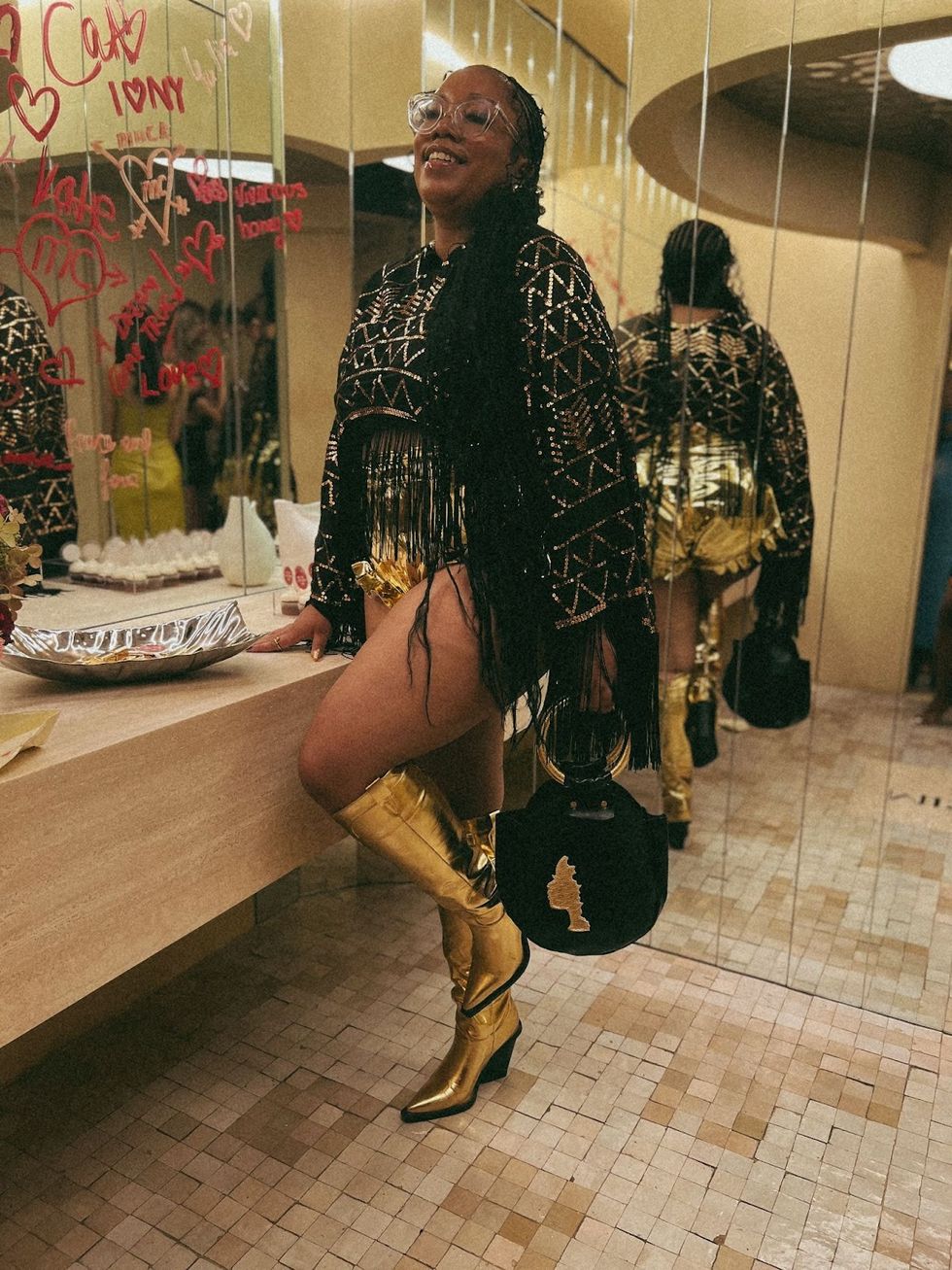 Photo courtesy of Joce Blake
Fit Check: I donned a black and gold top complete with sequin and fringe that perfectly paired with my golden bottoms from Char Workroom. It was really the golden cowboy boots that sealed the deal.
Day 4
Day 4 was a doozy. First up, I stopped by the Cinq à Sept presentation set against New York's stunning skyline. The Cinq à Sept Spring 2024 Collection is inspired by Old Hollywood glamour and the Côte d'Azur. It is sophisticated, romantic, and celebratory. The collection embodies a sense of slowing down and new beginnings.
After that, I went to Kate Spade at The Standard High Line, where the colors and patterns were on full display. I was in heaven, surrounded by polka dots and sequins. The presentation was filled with vibrant and eye-catching clothing and accessories. I could have spent hours browsing the clothes, but I eventually had to tear myself away and head to the Raise Fashion Collective at The Standard Hotel.
Specifically, I wanted to support one of my favorite brands, CISE, because "Protect Black Women" is forever the motto. One of the advantages of attending fashion showcases is that I have the opportunity to see new brands like Concept 26, a jewelry collection created by Shari Smith; she birthed it to accompany women's life journeys and enhance their confidence. Or Vontélle Eyewear, founded by Tracy Green & Nancey Harris, to meet the demand for vibrant color and patterns and better fitting eyewear. It's all about fit, fashion, and functionality.
Up next, the Kensington Grey Brunch filled me up as Black creators took over Neuhouse to talk all things fashion and creation. Their annual NYFW event was a conversation with American Fashion Designer Dapper Dan, Ami Colé Founder and CEO Diarrha N'Diaye – Mbaye, Topicals Founder and CEO Olamide Olowe, Jeneé Naylor, Kia Marie, Karen Blanchard, and Kensington Grey Founder and CEO Shannae Ingleton Smith. The event was held to discuss the intersection of fashion, entrepreneurship, and brand strategy.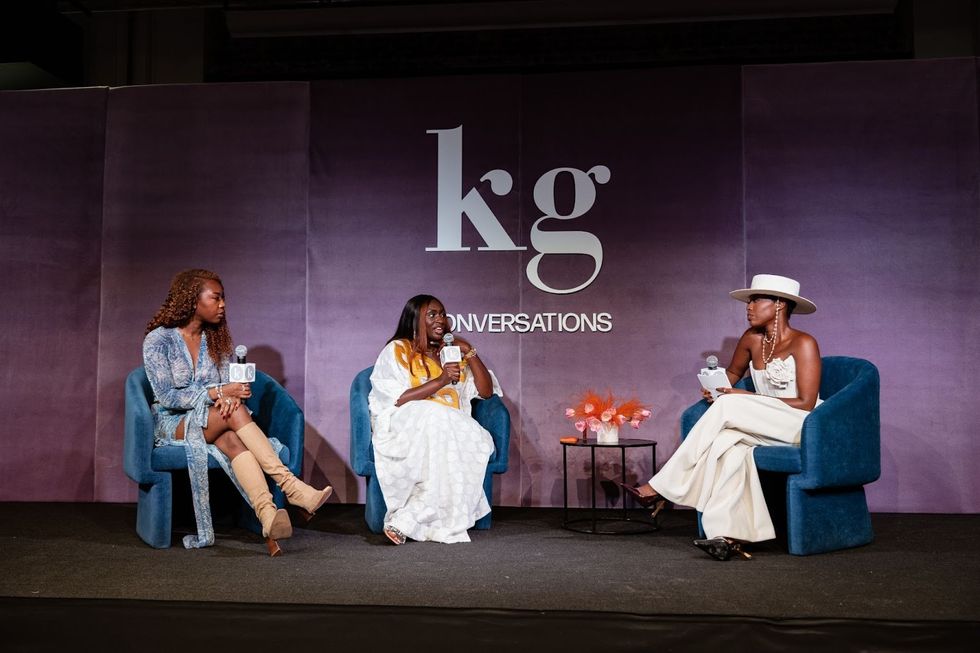 (L-R) Olamide Olowe, Diarrha Ndiaye and Jenee Naylor
Photo courtesy of Kensington Grey
The panelists discussed their experiences as Black entrepreneurs in the fashion industry and how they are using their platforms to promote diversity and inclusion. They also spoke about the importance of using fashion as a tool for social change.
It's not NYFW if I don't hit up the Essence Fashion House. This year's theme: WHERE BLACK CREATIVITY REDEFINES FASHION. This event celebrated Black culture and fashion, providing tools for Black-owned brands and creatives to thrive. Attendees gathered to learn, be celebrated, and be inspired.
The lineup included:
Hip Hop, "Haute" Sh*t, & Heritage: The Best of Bed Fellows
Navigating Mental Health And Wellness Behind The Scenes In Fashion
What is Sustainability in Black Fashion
African Fashion and Garments
Are Black People Buying Black Luxury
SOKO MRKT, a retail pop-up of emerging & established Black designers
Fit Check: This look was sponsored by my mama. *cues On My Mama* My mom thrifted an amazing black and white polka dot shacket that I decided to pair with wide-leg camo pants that I stole from her closet. I accessorized with an edgy basketball purse.
Day 5
At this point, I wasn't sure what day it was, but my first stop was the Flying Solo show featuring Denver-based designer HAUS. This Black-owned and queer-led design house creates urban contemporary, gender-affirming, and inclusive clothing with an emphasis on sustainability. HAUS designs are primarily intended to fit gender non-conforming people, and they offer both standard and customizable options to fit everyone. By using vegan and recycled materials in a small-batch production process, HAUS is able to achieve its mission of creating garments that truly include all bodies, all people, all the time.
Then, it was on to Son Jung Wan, one of my favorite designers. The "Harmony" collection was inspired by the beauty of natural movements and personifies humanity in its most artistic form. The collection features powerful silhouettes with delicate gentleness, created with ruffles, light silk, organza, chiffon, and mesh.
The last stop was alice + olivia by Stacey Bendet, where the weather gods thought a torrential rain shower was appropriate. The brand's Spring 2024 Collection was inspired by Capote's Swans and high-society of the 1960s, presenting a fresh take on the historic era.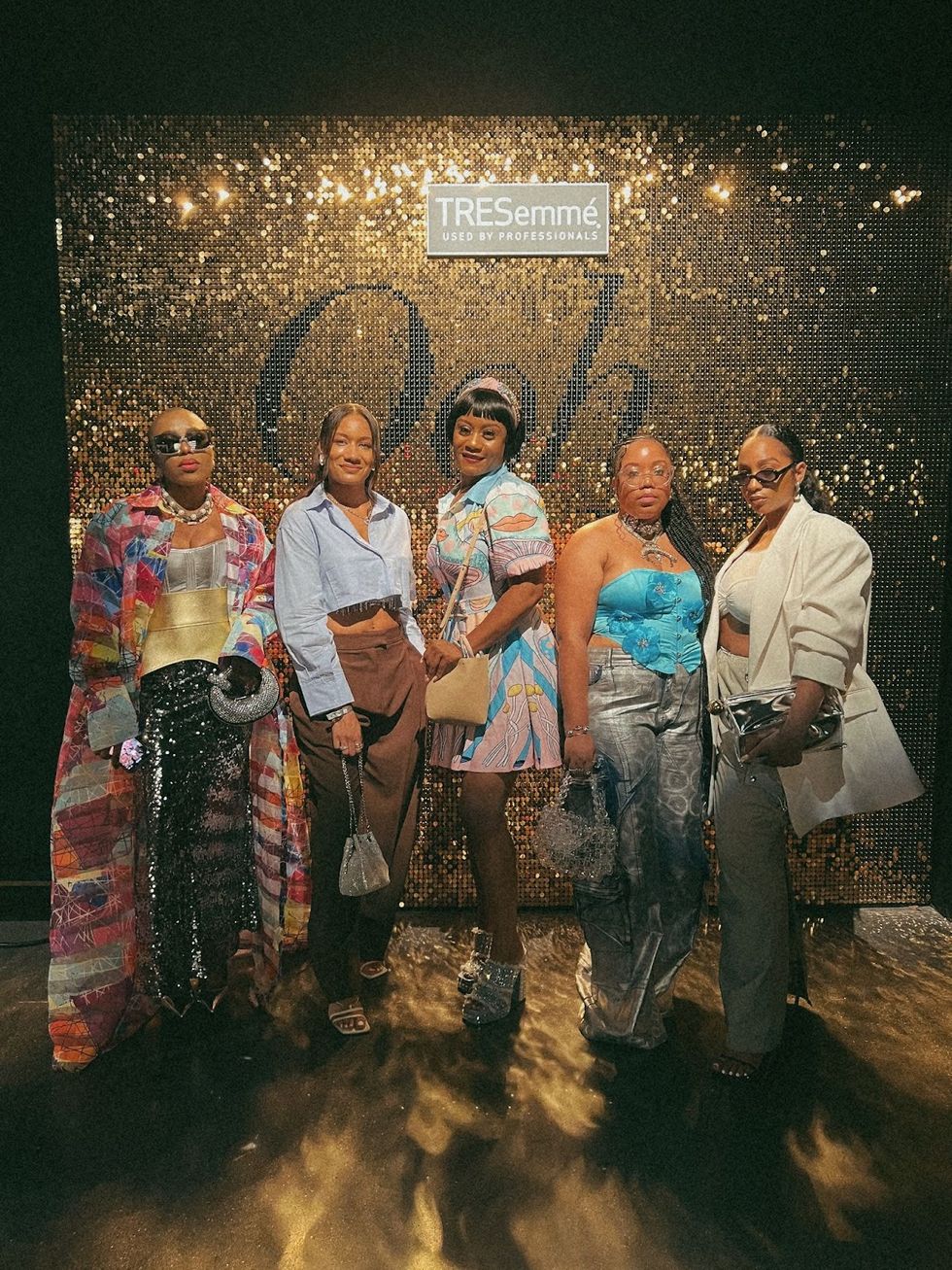 (L-R) Adee Erhabor, Courtney Simpson, a guest, Joce Blake, and Ashley Weddington
Photo courtesy of Joce Blake
Fit Check: Since corsets and cargos are in, I went for an ethereal yet edgy vibe in a vibrant blue corset with metallic cargo pants. I was feeling gaudy, so I layered up some diamond necklaces to coordinate with the diamonds in my top and the shine of my pants.
Day 6
Only two things mattered on Day 6 – the Sergio Hudson Show & Afterparty. Even before Sergio graced the cover of Essence with THEE Keke Palmer, I was a fan. The way he designs for the magic that is the Black women keeps me in awe. And I'm not the only one because he brought the girls out from La La Anthony to Marsai Martin to Nene Leakes to Angela Rye to Yvonne Orji to Kimora Lee Simmons. The runway was awash with feminine pieces that skillfully blended classic staples with risqué pieces. The models wore everything from delicate silk blouses to daring leather pants, and the overall effect was both elegant and edgy. The collection was a clear statement from the designer that femininity is not one-dimensional and that it can be expressed in many different ways.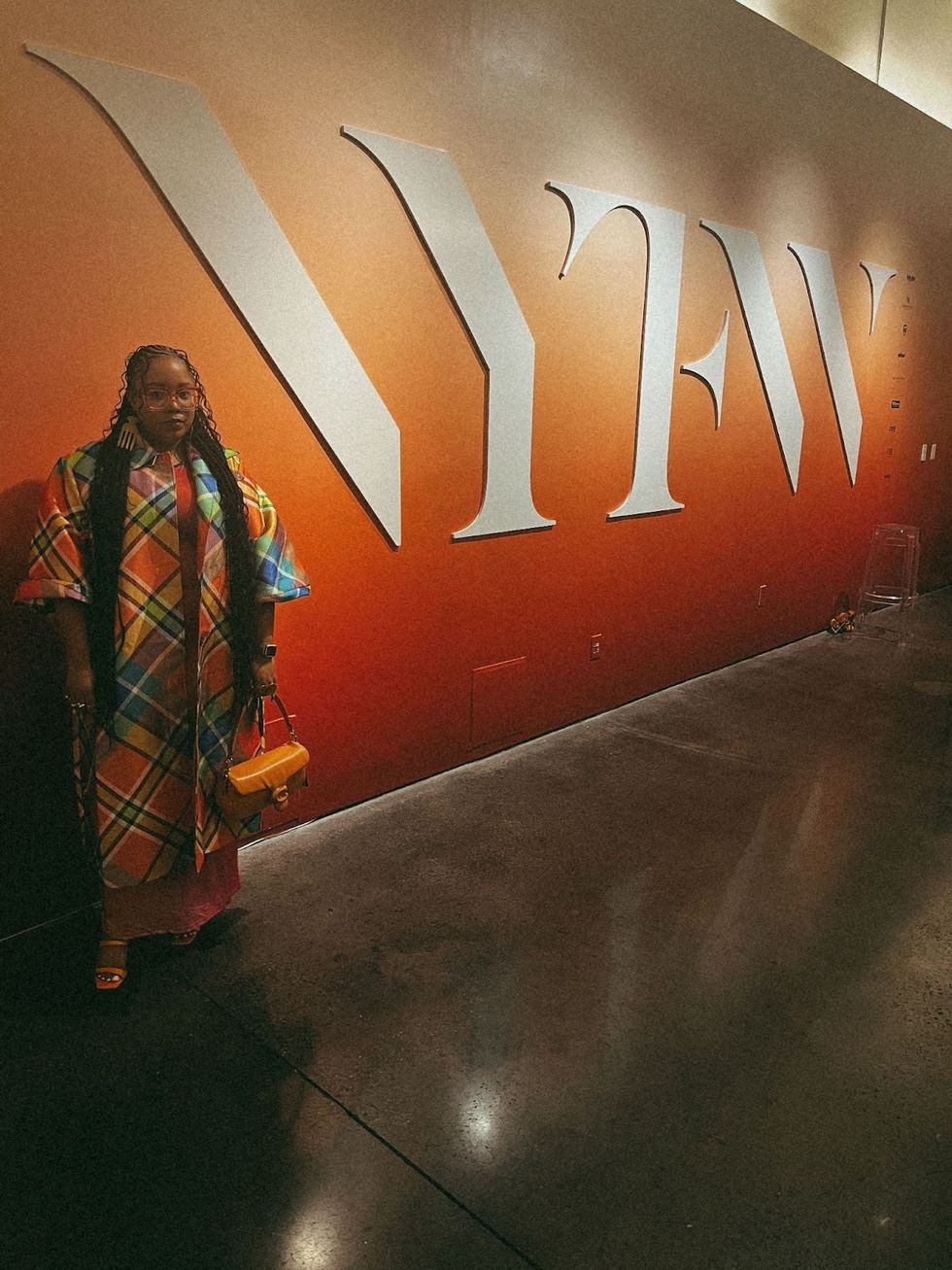 Photo courtesy of Joce Blake
Fit Check: I had to save my multicolored structured jacket for this day. I wanted to be like Kanye West the entire night — DO YOU SEE THIS COAT!? Underneath, I wore an ombre dress and finished the look with orange heels and a Coach Tabby.
Day 7
Each season, the Global Fashion Collective brings fashion designers from all over the world to present their latest collections. This event is a celebration of the power of creativity and the beauty of diversity, as it features everything from avant-garde designs to classic fashion staples. I'm always blown away by the emerging designers' stylish iterations.
I concluded the night with the fabulous creations by Sammy B Designs. Ever since Samantha Black burst onto the scene years ago, she has been one to watch, and Beyoncé agrees. This season, she elevated her ready-to-wear clothing line, which is feminine with an eclectic edge, with sequins, mesh, vibrant colors, logomania, cutouts, and puffed fabric, ranging from joggers to coordinated sets to dresses. After she slayed the runway, then we partied all night with some fire tunes and groovy drinks from Appleton Estate.
(L-R) Ashley Weddington, Joce Blake, and Courtney Simpson
Photo courtesy of Joce Blake
Fit Check: I can't lie — this look was not planned, but when my girls said they were going with all-denim looks, then I knew I needed to come through. I rocked my denim jacket from the Daquane Cherry and Steve Madden collection because it was giving Basquiat art on the back. On the bottom, I wore flared denim jeans and brought the look to completion with an urban take on the cowboy hat. Altogether, we were giving Destiny's Children.
Day 8
I had to take a break on Tuesday to get my life together. By Wednesday morning, I was jumping back in with Indonesia Now as my first show. Indonesian fashion designers Ivan Gunawan, Merdi Sihombing, Ayumi, IKAT Indonesia by Didiet Maulana, Ghea Panggabean, Amero X Livette, and Suedeson by Kimberly Tandra X MANDY'S' all showcased their Spring/Summer 2024 collections. The collections were inspired by a variety of sources, including the golden age of the Majapahit empire, traditional Batak patterns, street style, the diversity of Indonesia's traditional clothing silhouettes, the strength of Sumbanese women and weavers, the Borobudur temple, geometric abstract triangle motifs, and Indonesian women with different styles and dreams.
I stopped by the Black in Fashion Council showroom to indulge in more emerging designers. Fumi the Label brought the colorful knots we need all year round. KHOI introduced a new jewelry collection full of intention. Tejahn Burnett presented the footwear selection of our dreams. I was really impressed with all of the designers, and I can't wait to see what they come up with next.
The Black in Fashion Council is an organization that supports and promotes Black designers in the fashion industry. The showroom is a great place to see the latest designs from Black designers and to learn more about their work. I highly recommend checking it out if you're interested in fashion or supporting Black businesses.
WhenSmokeClears brought the New York City flavor we all love and adore. It was the way every model rocked Timberlands. The collection is undoubtedly an extension of the brand's previous collections, which create community like never before. My favorite moment: the most beautiful pregnant woman stole the show in a denim cape dress with coordinating denim pants.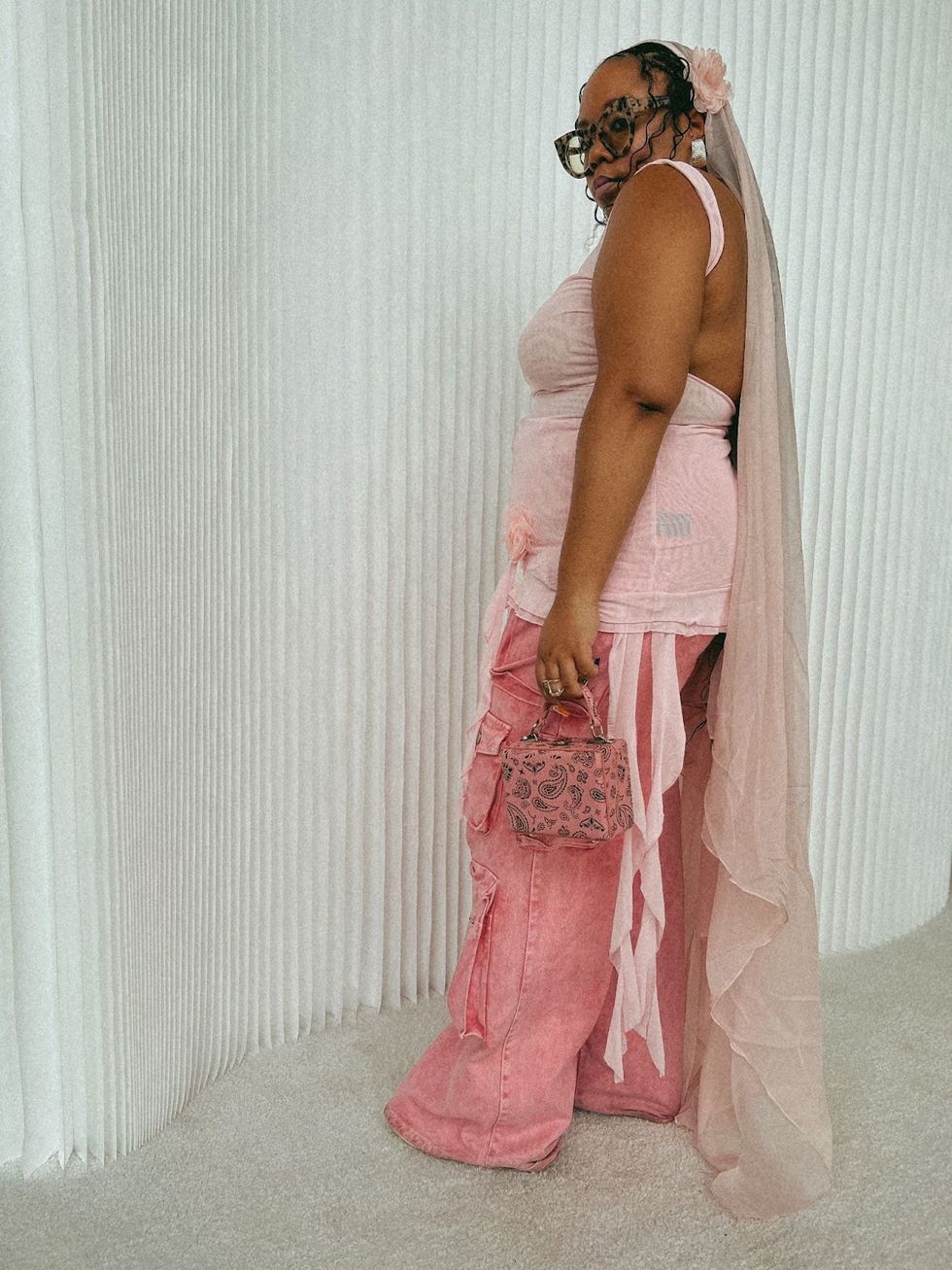 Photo courtesy of Joce Blake
Fit Check: The last day's fit was giving blushing bride as I adorned an all-pink look complete with pink cargo pants, a pink frilly, floral top, and a pink veil outlined with roses that fell to the floor. To add more pink, I carried my favorite pink paisley Brandon Blackwood bag.
Feature image courtesy of Joce Blake