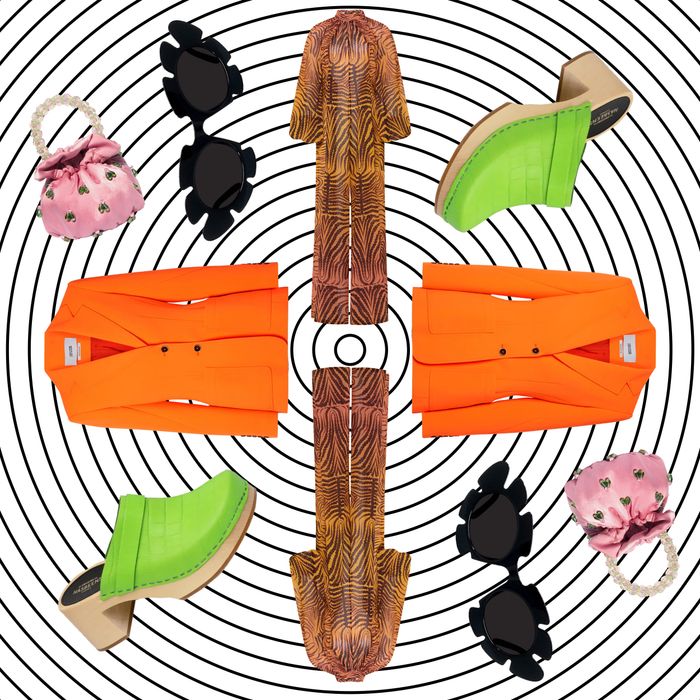 Photo-Illustration: The Cut; Photos: Retailers
Summer in New York means many things — block parties, brunches, picnics, the list goes on. And having a summer wardrobe as chic and fun as all the events is just as important. No matter where you are, though, you can bet everyone is shopping for their best hot-girl-summer pieces.
The past few warm weekends in the city, I questioned myself about what to even wear. A bikini top as a crop top? Some comfortable sandals? A jumpsuit? A minidress? The options were plentiful, but my inspiration was fraught.
That's why I reached out to a handful of stylish people, from editors to influencers, so they could spill the tea on what's in their summer shopping carts. From statement sunglasses to luxury secondhand finds, their carts already have me inspired.
Photo: /
I'm obsessed with the designs from this designer. I also love that mostly everything is made to measurements and not sizes. It offers such a unique design for every body, which is how it should be.
It's not just the color of this dress but the stitching and the overall draping. I feel like I would look too good in this, so it's in my cart. I'm just waiting for an occasion to buy it for.
I'm always down for a cute color-blocking moment, and this skirt looks so gorgeous. I just know I could style it to fit my overall style.
Photography by Hunter Abrams
I recently visited the Webster in Miami and tried on these major sunglasses from Loewe. They were so fun and fitting on my face, but I regret not purchasing them on the spot, so they are currently waiting in my cart until I make the final push to purchase!
I love a sexy black legging for summer! I've been eyeing these ones from Ottolinger for quite some time but have been waiting until they dipped in price. I'm looking forward to pairing these with a cropped black top and a strappy sandal!
I love a flowy statement piece, and this just meets all my summer plans, from the south of France to Nairobi.
This swimsuit is so breathtaking. Andrea Iyamah creates the perfect statement swimsuits that can also be worn as crop tops!
There is no summer for me without Zimmermann. These shorts are divine. The high waist, the texture, the color …perfection.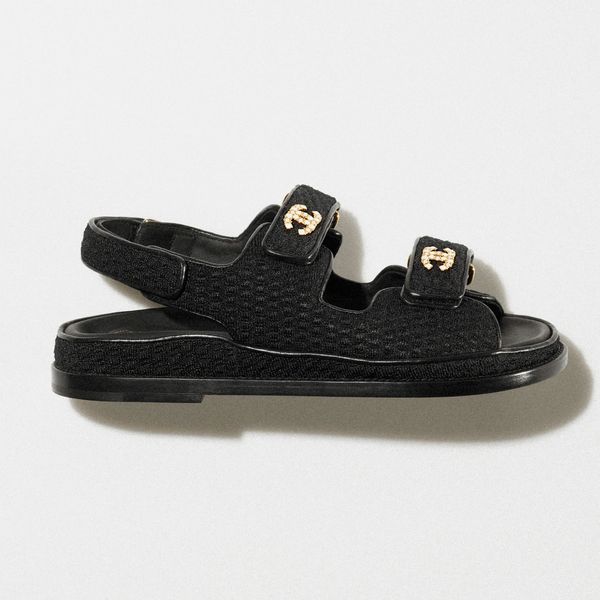 This sandal is in my cart because it's a very subtle luxury item that is not only comfortable but can be paired with almost anything. I think it's a great addition to anyone's wardrobe.
This item is one of those dresses that speaks for you in all the best ways. It's vibrant, beautiful, comfortable, and perfect for a night out or even for brunch. I love that it has a cutout at the waist, which allows you to feel a bit sexy.
I've been having my eyes on these Pleats Please Issey Miyake shorts! They are so sleek and comfortable, not so short, just the perfect length.
These Zoe mules are the "It" sandals for this summer. I've got my eyes on them, and I cannot wait to get them! The pop of pink is the color of the season.
Not only is this dress handmade in Brooklyn, it's the perfect balance between sexy and comfortable.
If I'm lucky, I can spend all my summer weekends by a pool, dripping in silk and lavender.
There's no better thing than a colorful crocheted hat!
These are the best shorts for summer. I already have them in another wash, and I'm adding these soon. They give you the relaxed look without being too short or uncomfortable.
I also have this top in white and plan on adding this color. It's a unique take on a classic linen shirt. It looks great dressed up or down, and this shade of pink is gorgeous!
Blazers are my thing, and this shade of orange is unlike anything I've ever seen! CJR makes wearing bold colors so easy and fun, and this blazer will be a forever piece in my closet.
I'm not very skilled in the art of conversation, but these wonderfully bizarre earrings would do all the chattering for me.
Photo: APAG STUDIOS/APAG STUDIOS
I'd be lying if I said this dress is in my cart, as I just bought it. My friend Nia Porter introduced me to Sika, founded by Phyllis Taylor. The clothes are designed in London and handmade in Ghana; the colors and silhouettes are beautiful, but this dress in particular really took my breath away (and it's 100 percent cotton!).
Having entered the "more is more" phase of my life, I'm enjoying wearing clothing that takes up space and makes people turn around and think, She's lost the plot. I would absolutely wear this with a T-shirt to pick up dry-cleaning or (oat) milk from the grocery store.
I've had my eye on these Swedish Hasbeens since last August, and I think this year I'm finally ready to bite the bullet. I particularly love this candy-apple-green pair. I'm ready to have a hot-clog summer!
This spring, I've been ogling quilted coats, and I'm excited to continue my obsession into summer with the Adaline patchwork minidress from Dôen. I love the print, collar, and overall breezy nature of this piece and can't wait to pair it with cowboy boots until it gets too unbearably hot to wear long sleeves.
I'm currently on the lookout for the perfect pair of tapered khaki trousers to wear with a ribbed white tank top and sandals all summer long. The Frankie Shop makes my favorite cold-weather pair, and I think its Marte pleated pants in sand may be just what the doctor ordered. I love the versatility and fit of their basics and hope to be able to wear these as part of a two- or three-piece suit as well.
I love a good trip to the thrift store, but often I just prefer the convenience of shopping from bed, so Depop is my go-to. Lately, I've been obsessed with anything and everything sheer, so this vintage Jean Paul Gaultier dress is probably coming home with me. If I can help the environment and buy something no one else has at the same time, count me in.
Knitwear is always my favorite because it is so comfortable and versatile, and I love a piece that can be worn from the beach to dinner. This knitted square top by Veceur is all I'll be wearing this summer. It also comes in a knitted-skirt version, and we love a matching set.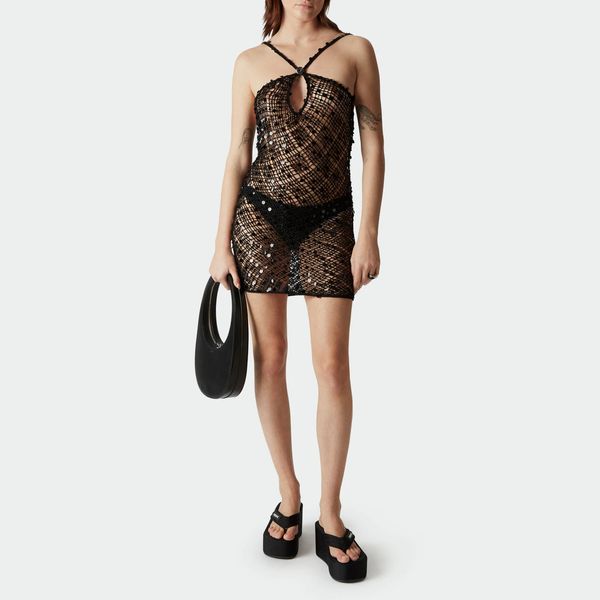 My jaw literally dropped when I saw this dress. It's the tiny sequin details, the low back, and the '90s vibe for me. Sold!
I'll say it once, and I'll say it again: frock-girl summer. Frocks are chic and perfect for running around. I plan to wear this one all season long.
Summer is for adorable, impractical, and sparkly bags. I will definitely be wearing this one in any setting.
Meet the perfect summer shoe: the fisherman sandal. I love how these can seamlessly transition you from spring to summer. They are a staple, in my book.
We are seeing a big tube-top resurgence! I have been looking for something a little different with a modern twist. This piece is perfect because it's unique but can pair easily with any bottom.
I just found these dresses on Instagram, and they're a summer essential. This dress is easy to throw on with a pair of loafers and some fun accessories.